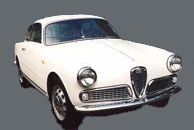 Alfa Romeo Giuletta Sprint and Sprint Veloce 1955-1962 production of 14,300 units and 2796 units 1300cc twincam 4 in 2 door coupe and berlina versions. High performance editions and bodies followed. The sprint coupe was designed by Bertone and the Spider by Pininfarina. These cars were built in large numbers therefore, there are plenty of parts to keep them running.
---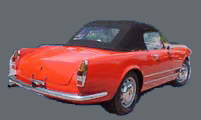 2000 Spyder 1958-1961 production of 3443 units same engine and chassis as the earlier 1900 with new body. The Sprint Coupe designed by Bertone there are only 700 of them so this one is rare. The 2000 Spider was designed by Touring. Parts for the 2000 series are difficult to find.
---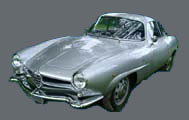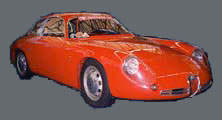 Giulietta SS and SZ 1957-1962 production of 1366 and 200 units The ultimate Giuletta which would go 120 mph+
---
2600 Spyder 1962-1965 production of 2255 units This series had a twin-cam 6 cyl. engine and disc brakes on all 4 wheels. These engines are really rare, so make sure they are complete and running!
---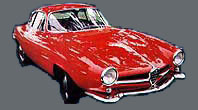 Giulia Sprint 1962-1966 production of 42,889 units aluminum block with a dohc 1570cc motor and disc brakes in front. The Sprint coupes were designed by Bertone. There was also a special G. T. A. version of the Sprint built for racing.
---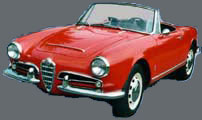 Giulia Spyder and Spyder Veloce 1962-1965 production of 9250 and 1091 units Pininfarina styled with 1570cc aluminum engine and twin carbs. The spider was designed by Pininfarina.
---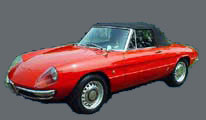 Duetto 1966-1967 production: 6325 units. Pininfarina classic styling, this car would go 0 - 60 in 11.3 seconds, disc brakes on all 4 wheels
---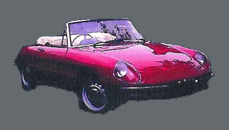 1750 Spyder Veloce 1961-1971 production: 8722 units The successor of the Duetto.
---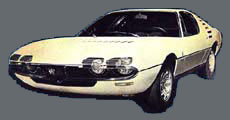 Montreal Came out in 1971 and was a road-going version ofAlfa's "dream" car. A2.6 liter twin-cam V8. The car has a very unique styling and great performance but parts are scarce. Only 3925 were built
---
For more information on these fine autos contact: Alfa Romeo Club