Healey A turning point in Healey's fortune came in 1952 at the London Motor Show, when exhibiting a new model called the Healey 100. The car created such a sensation that Donald Healey knew he would never be able to cope with the demand. The car became the Austin Healey when Leneord, Lord of Austin talked Healey into allowing Austin to build the car.
---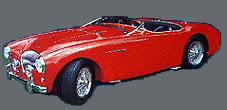 100-six 1956-1959 production of 10,289 units. In 1956 the 100-six powered by the Austin 6 cylinder, with a new longer body and a wide oval grille. This car was heavier and less sporty than the 100, but it was almost as fast and appealed to a wider audience. Healey drove a super-charged prototype at over 200 mph in Bonneville in August 1956.
---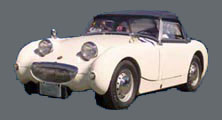 Sprite 1958-1961 production of 48,999 units 1958 saw the announcement of this new Austin Healey. This allowed many thousands of people to purchase a sports car who could not afford the more expensive 100-six. It quickly became known as the "frog-eye" due to its pod like headlights. This is probably one of the simplest, lightest sportscars ever made. Running gear and front suspension carm from the Austin A 35 sedan. These cars are not real fast but there are plenty of parts to make them fast. Plenty of them around makes them affordable and lots of fun.
---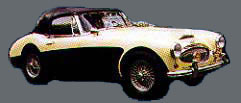 3000 1959-1968 Mk I-13,650 units -- Mk II 5450 units -- Mk II Convertible-6113 units -- Mk III-17,704 units In 1959 the 100-six became the 3000 because it was now available with a larger 2910cc version of the "C" engine and front disc brakes. Improvements were made as the car progressed. The Mk II was offered as a true convertible with a folding top and roll up window. Early cars had side curtains. The final Mk III has even more power and a wood covered dash and much better suspension.
---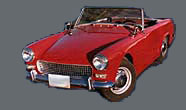 Sprite II 1961-1964 production of 31,665 units. The restlying on the II gave it less individual looks, a boot which opened from the outside, and frt disc brakes. The engine was enlarged in late 1962 to 1098 cc. No outside doorhandles on this model, and detachable hardtops were a popular option.
---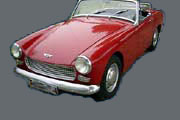 Sprite III 1964-1966 production of 29,905 units With windup windows and outside door handles (and locks) this was the civilized Sprite. The car also had improved handling and a slightly bigger engine.
---
Sprite IV 1966-1969 production of 14,350 units The main difference was the 1275cc engine, however perfomance was only improved slightly.
---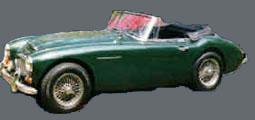 From 1961 to 1971 Austin Healey and MG built a sucessor to the Mk I. The Healey was the Sprite and the MG was the Midget. This car is also referred to as Spritets or Spridgets. These cars make great economical daily transportation, very simple to maintain and cheap on gas and oil. But they are small and crude (no cupholders here). Total production over the entire series was 226,526. That means parts are plentiful and not too costly.
---