---
Vega and FVS 1954-59 Prod: 357 During itís producation life, large engines were fitted and by the end, there was 325bhp 5.4 L Crysler V8 and a 3rd ratio in theautomatic transmission. In 1957 brake servo was fitted. In 1958, disk brakes were an option. Few cars were as stylish as the Vega and even fewer would carry four people at 130mph.
---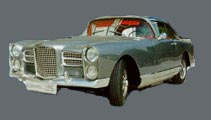 HK500 1959-61 prod:500 360 hbp 6.3 L engine. 4 wheel disk brakes were only an option until 1960. The problem with the HK500 was it was long on style and power but short on detail which an opposing company took advantage of. The seats werenít right, and the driver was likely to be thrown around the cockpit.
---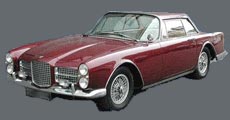 Facel II 1962-64 Prod: 184 Uprate HK500 with sharper lines, better visibility, and up to 390 bhp. Would top 150 mph, and 0-60 in under 8 seconds. Chassis would not keep pace with increased power output, and still a mystery as to why it did not do better. What was good enough in 1954 was not in 1964.
---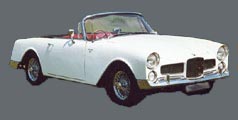 Facellia 1960, prod: 1258 This car brought the company down. It resembled the smaller 2 seat HK500. Available as hardtop, convertible or coupe. Drum brakes were an option until 1961. The 1647cc dohc 4 cylinder unit was a problem. Car was expensive for a 1.6 L sports car115bhp engine had peaky power band and would just top 105 mph and 0-60 in 11.9 seconds. Engine was noisy and burned oil and pistons.
---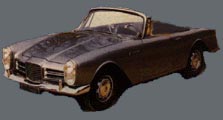 Facel III/6 1963-64 Prod: 1500/26 Car sold more in two years than all Facel models( with the exception of the Facellia) in all 11 years. It was a Facellia with a 1780cc Volvo engine; excellent reliability. Facel 6 had 150 bhp BMC series C engine similar to that in an Austin Healey 3000, but linered down to 2851cc. The power meant the perfomance was better; however, it wasnít enough to save the company.
---