---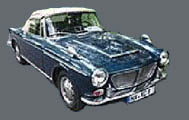 1200 / 1500 / 1500S / 1600S Cabriolet 1959-1966- This was Fiat's first high volume in house sportscar. Styled by Pininfarina. These little Fiat's came with and overhead valve 4 cylinder. The S series car had an OSCA designed twincam which was plenty powerful for it's day. Check them out carefully as they are rustprone. 43,000 produced between 59-66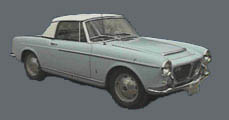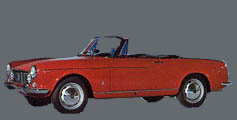 ---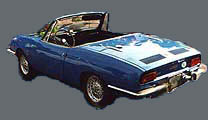 850 Spider 1965-1974 This car was based on plain 850 series running gear, and had a Bertone styled body. This 2 seater roadster with a rear engine was very small and lightweight. Lots of fun to drive. Plenty of mechanical parts are available. Abarth offered hopped up versions, some with twincams. Body parts are hard to obtain, but it's an easy car to keep running.
---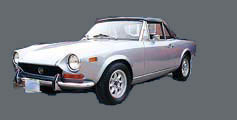 124 Spider 1968-1972 Fiat's most successful sportscar was produced in large numbers. The spider came out in 1968 with a dual overhead cam 4 cylinder. Body design by Pinninfarina, they are great handling cars with plenty of performance. The tops go up and down easily. Nice wood dashboard, loads of fun and very dependable if maintained correctly.Produced in large numbers 1.4 & 1.6 liter spiders-60,233 units. 1.8 liter spiders-69,208 units. 2.0 liter spiders-48,998 units.
---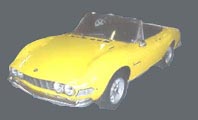 Dino Spider & coupe 1967-1973 This car was a team effort by Ferrari and Fiat. It gave Fiat a top of the line product and helped Ferrari make its V6 Dino powerplant leagal for Formula Two regulations. The coupe was designed by Bertone and the Spider by Pinninfarina. Early cars were 2.0 liter and later cars were 2.4 liters. This is the poor man's Ferrari.
---