---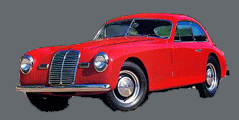 A6 1500 1946 - 1950 Production of 61. The first road car manufactured by Maserati. Most were Pininfarina designed GT bodies, however a few convertibles were built. The top speed was 95 mph.
---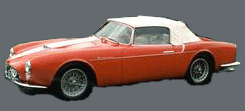 A6G & A6G2000 1951-1954 / 1954-1957 Production of 16 / 61. An enlarged engine on the A6 chassis. Bodies were produced from a variey of coachbuilders and some are even one-offs.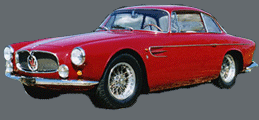 In 1954 Maserati used its first dohc engine which upped the mph to 118 and could do 0 - 60 in 10 seconds.
---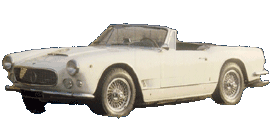 3500 GT & GTI 1957-1964 production of 2223. At the production of this model, Maserati was now able to compete with Ferrari. This one was designed by Alfieri. Again a dohc straight six with a 4 speed transmission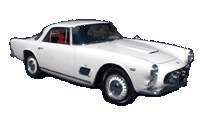 (A 5 speed was used beginning in 1960) Front disc brakes were an option beginning in 1959, and became standard in 1960.
---

5000GT 1959-1954 production of 32. a 5 liter motor stuffed into the 3500 chassis to prodouce a road car which could do 0-60 in 6.5 seconds and reach a top speed of 170 mph. Various coachbuilders were used but most were Allemano designed 2+2.
---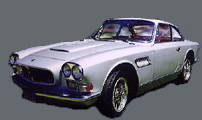 Sebring I / II 1962-1965 / 1965-1966 production of 346 / 98. A shorter wheelbase version of the 3500GTI with a body designed by Michelotti. Since the US was the target market for this car, it came with options like air conditioning and automatic transmission.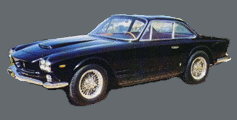 Unfortunately, they robbed valuable horsepower. The II was fitted with disc brakes.
---
Mistrale 1963-1970 production of 948 A shorter chassis than the Sebring, and steel reinforcements made this a stronger car, but lighter weighing nearly 500 pounds less than the Sebring. A Frua designed body with a lifting tailgate.
---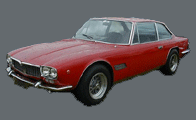 Mexico 1965-1973 production of 250(approx). The first to use a V8 engine, a 4 seater which used the chassis of the Quattroporte. It had 4 wheel disc brakes and a 5 speed. With the 4.2 liter engine it could go 150 mph. In 1969 an optional 4.7 liter could do 0-60 in 7.5 seconds. The styling on this one was not exceptional and was not well received.
---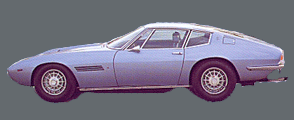 Ghibli 1966-1973 production of 1274 What can be said about this one, well for starters how about WOW. A 2 seater styled by Giorgio Giugiaro. A 4.7 liter engine until 1970, then it was bumped up to a 4.9 liter.
---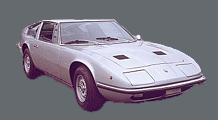 Indy 1966-1974 production of 1136. A 2+2 on a widened, shortened Quattroporte chassis. A 4.1 liter engine was first offered, then in 1970 it was increased to the 4.7 liter which could do 0-60 in 7.5 seconds and had a top speed of 156 mph. In 1973 it increased again to the 4.9 liter. In some years the Indy outsold the Ghibli.
---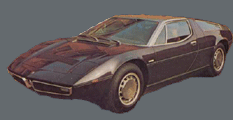 Bora 1971-1980 production of 571. When it was introduced, it had the 4.7 liter motor. Styled by Giugiaro. The later cars had the 4.9. Top speed was in excess of 160mph and it did 0-60 in 6.5 seconds. All that was coupled with superb road handling.
---
Merak 1972-1983 production of 1832. This one had a 3 liter V6 Citroen in the Bora's chassis. It also had the Citroen's steering wheel and instrument panel. Top speed of only 135 mph and it took 8 seconds to go from 0-60. Handling was excellent however as were the disc brakes.
---